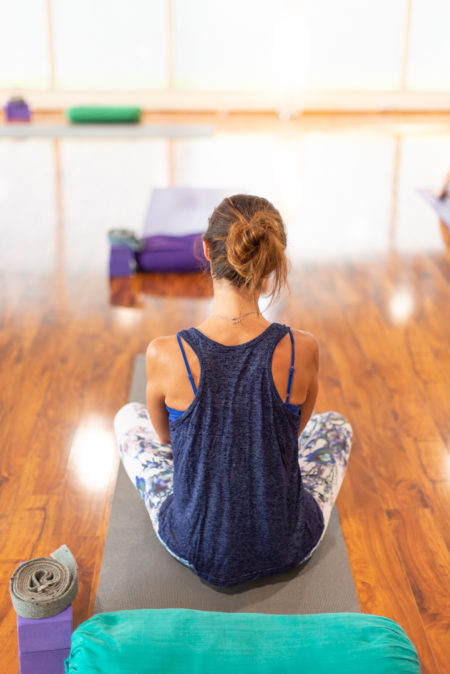 At Himalaya Yoga Valley, we're dedicated to bringing you our signature style, whether it's online or in person. With the current restrictions, we want to ensure that you're getting the most of your membership with us.
Here are some of our top tips on how to give yourself a yoga studio experience from the comfort of your own home!

Find your own space
When it comes to practicing yoga at home, try to find one space that you return to each day to practice. It should have enough space to roll out your mat and for you to move around, and adding a few comfy touches can really help make it your own. Try to practice in the same space every time so you really get in the headspace for your practice.
Props at home
Don't have a bolster or yoga blocks? Don't worry, you can use some props from home. Fill your yoga space with some pillows and large books and you have a handy prop ready if you need it.
Get Comfy
There nothing more soothing than a nice savasana. To make it even better, don't forget to bring a blanket or some fluffy socks to get comfy at the start and end of your practice.
Bring it outside
When the weather is good, why not practice yoga outside? Just bring your mat, your iPad or phone and enjoy a yoga class in nature, connecting yourself and your surroundings.
Volume at 80%
Based on our tests, 80% volume is the optimum level to ensure you are catching everything you need to know in your yoga class.
Bluetooth Headphones
If you don't have speakers, connect your phone to Bluetooth headphones and enjoy your class and our teachers instructions straight to your ears with pristine sound, without having to worry about pesky wires tripping you up as you go from Chaturanga Dandasana to Downward dog, allowing you to enjoy the flow.
Stream to a big screen
Our videos are on our app for a specific reason: so you can cast them to the big screen!
With just the touch of a button, you can move your yoga video of choice from your phone screen to cast to your Smart TV. Our App also works with AppleTV and Chromecast to help you get a proper studio experience at home.
Watch this space for our updated videos and if you have a membership, enjoy access to unlimited on-demand and live classes!
You can sign up now on our home page or by downloading our app from iOS or Google Play store.